(view part 1 of November Birthstones)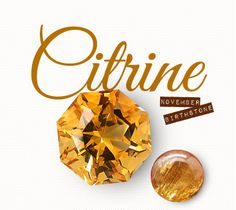 Hello! HAPPY THANKSGIVING! Our favorite holiday. Not only for the pie- but for the shopping! The start of the holiday season is always the best. It calls for baking cookies and snuggling up next to the fire, and concocting a well-thought-out list for the big man in red. (plus, it never hurts to hand out the list to your loved ones!)  Most people build a list based on the winter season; things like snowboards, remote car-starters, and heated blankets are commonly asked for here in Montana (and for those others who actually get to experience a white Christmas!).
Being a family owned and operated, fine jewelry store, there's one thing that always makes it onto our list. And that's Citrine. Here at Greenleaf's, we've always carried a pretty large selection of Citrine. Sometimes during our long, dark winter you just need a pick me up and get the essence of that summer sun. With Citrine's golden, sunny glow it's the perfect fit.
So, you should already know that the month of November has two different gems associated with it from our Part I post. We went over Imperial topaz, which also has that warm, sunny, golden glow to it!
Its history goes way back- like all the way to Ancient Greece. From its history to all its claimed mystical properties, Citrine is the gem that is a must-have on this year's Christmas list!
QUICK FACTS:
Citrine is part of the quartz family. It's the sister stone to Amethyst. (February's birthstone, ranges from deep violet to lilac).
The only difference is when quartz is heated, iron impurities are reduced resulting in less amounts of violet & purple and stone yellow and orange tones
Natural citrine is very rare, and is much more valuable than other varieties of quartz.
Much of citrine today is heat-treated to achieve its golden orange colors
The name citrine is an old French word, "citrin" which means "lemon".
Citrine became more popular toward the end of the 18th century in Europe. This time is referred to as the Romantic Period for having artistic, literary, and intellectual movements.
History:
The use of citrine goes back far into history. It's know that even the Ancient Greeks used citrine in jewelry and tools during the Hellenistic Age (300-150 B.C.)! Citrine also made a large appearance in the decorative handles of daggers and swords used by 17th century Scottish warriors. However, the gem's most recent pop culture appearance was during the Art Deco era. The gemstone was known for large, oversized pieces worn by movie stars and celebrities between World War I and World War II.
Symbolism:
Natural citrine has long been associated with mental clarity. Many ancient cultures believed that wearing the gem would help open up their mind and give energy to their creative and intellectual sides. It doesn't hurt that the warm sunny tones of citrine can evoke thoughts of joy and elevated moods and thoughts! The gem has also long been associated with luck especially to those involved in business situations. Perhaps this is related to the idea that this gem helps you think clearly and make good business decisions.
Mystical Properties: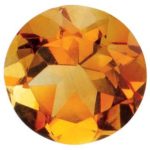 For centuries, citrine gemstones have been sought after for their healing properties. The warm golden yellows were known to be used to purify the body of toxins, strengthen the immune system, and improve blood circulation. The gem's vibrant hues were thought to have to ability to elevate your moods, and treat depression and even heartache! (Talk about powerful!) Now although most don't believe in the healing powers of crystals and minerals that are trending though pop culture right now, the association of citrine with health, hope and joy remains!
*Emotional benefits of sporting a citrine gem:
relieves depression, self-doubt, anger, and irrational mood swings
*Physical benefits of sporting a citrine gem:
beneficial for digestion, stomach problems and sleep apnea
As you can see, November has beautiful, sunny birthstones you can wear to warm you up a bit this season, with some amazing, positive, uplifting properties to get you through the winter!