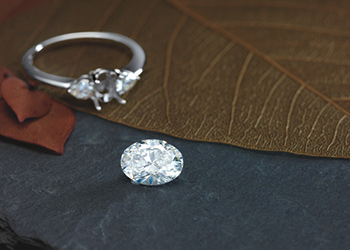 Greenleaf's Jewelry is recognized for having one of the largest selections of estate jewelry in the area. Estate jewelry is previously owned jewelry that is often antique or vintage pieces. Our estate showcases encompass pieces that are higher end and feature fine workmanship and high-quality stones, and many of those are one of a kind pieces.
All estate pieces are inspected, graded and priced by the experts at Greenleaf's Jewelry, and are sold with the same unsurpassed service as our new items. Items range from vintage pieces to modern items in all price ranges. New items are added weekly and are only available first come first serve.
Jewelry Buying:
Your antiques and heirlooms may be worth more than you think! Greenleaf's Jewelry will purchase your valuables. We are now accepting jewelry valued at $200 or more to sell in our estate showcase. Stop by the store, and leave your piece(s) for a verbal figure of both cash and consignment values. Time frame varies on the number of items needed to be figured & appraiser's workload.
Items eligible for consignment/cash figuring:
Antique & Estate Pieces
Diamonds
Fine Jewelry
Fine Timepieces
Gold & Platinum
Terms & Requirements:
Greenleaf's Jewelry takes a 40% commission upon sale of the item(s).
All required repair work will be paid by the consignee(s) at the time of sale or if the consignee chooses to pick up any item(s) listed on this contract.
All piece(s) are eligible for Greenleaf's Jewelry layaway terms. Any items not paid in full within the 90-day layaway time will be placed back in the estate case for sale again, unless otherwise noted.
If chosen, consignee agrees to allow piece(s) to be displayed on Greenleaf's Jewelry's website and social media platforms.
The above name person(s) owns or has permission to sell the item(s).
The consignee must provide photo ID to leave and/or pick up any items.
The item(s) or payment for sold item(s) will not be given to anyone but the above-named consignee.
We will keep items in our showcase for up to 18 months.
Estate Showcase Favorites:
You could say almost every piece that comes through our estate showcase is one of a kind. We've pulled a few of our favorites items that are currently  in our showcase to help you get an idea of what comes through our store. We have hundreds of estate pieces, so stop by the store to browse more options!